Commemorating the Royal Union of Barkha and Bhavesh
A 7x setup by Dev-Raj was absolutely stunning for the royal union of Barkha and Bhavesh. The beautiful lit up space with erupting fireworks on the getaway walkway was completely breath-taking. The themes selected for the wedding functions have been represented by the rich customs and rituals of a typical Sindhi wedding.
Musical Ring Ceremony- A Perfect Grooving Night
A ring ceremony marks the coming together of the beautiful couple Barkha and Bhavesh. The backdrop lit with white, gold and blue starry lights with the wedding logo at the centre of the stage was like a dream come true. The grandiosity and the majesty of the musical night had left the guests completely amazed. The soon to be bride and groom were entertained by the friends and family members through various dance performances and later were called upon the stage to perform on the addictive music beats. However, what smashed the record was the décor with plush flowers with chandeliers which were a splendid setup for Sangeet night.
Most Gleeful of All! -Haldi Ceremony
The zestiest and playful of all the ceremonies is the haldi ceremony. Haldi is amplified into being a carousing party in itself which is no more a ritualistic ceremony of the application of turmeric paste to the bride and the groom. Draped entrance aligned with coral trunks and bundles of marigold flowers embraced the walls of the house that looked completely stunning for Haldi.
Declaring the Life Long Commitment- D Day
In the contemporary world where marriages happen in a quirky way, the wedding of Bhavesh and Barkha happened in a true to type Sindhi style with a set of rituals and vows at Sindhu Bhavan, Ahmedabad. To make the wedding setup more edgy and fun, the entire mandap was decorated with traditional white and pink flowers that thrilled the guests due to the sheer size of the installation as nothing adds to the grace and elegance like flowers.
Pick a seat, not a side at the Aristocratic Reception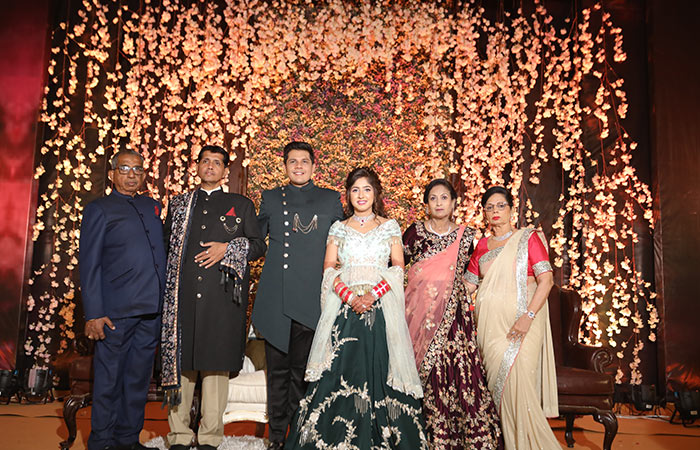 The dreamy entry of the newly wedded bride and groom was a masterpiece in itself. The dome-shaped with hay and flowers that lightly lit the pathway enthralled everybody present in the kingly reception at Saajan Farm. The bride and the groom were led by dance troupe who hoisted orange flags to announce their grand welcoming. The enchanting reception was enjoyed by the guests and the entire premise was lit up with beautiful bright lights.
Photo Credits: Pooja Studio